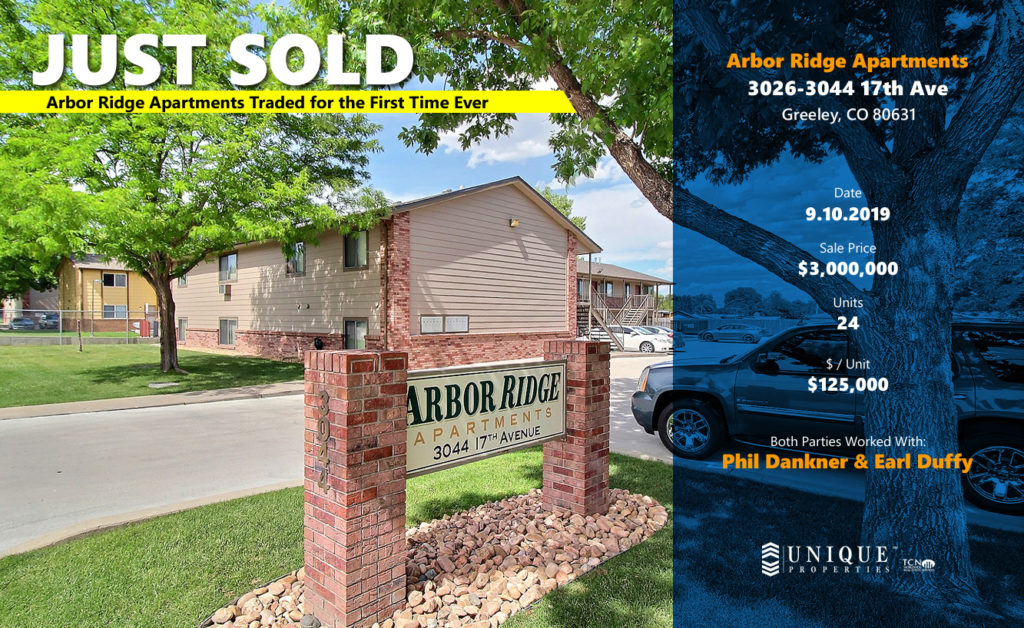 September 19, 2019
The Phil Dankner Team of Greystone Unique Apartment Group Worked With Both Parties to a Successful Close
Greeley, CO  (August 26, 2019 ) — Greystone Unique Apartment Group and the Phil Dankner Team is pleased to announce the sale of 3026-3044 17th Avenue in Greeley, Colorado. Since being built in 1992, these family owned buildings had never been offered for sale.
Consisting of two non-contiguous 12-unit buildings that boast a unit mix of nearly all two bedroom one bathroom units, this portfolio is located just south east of the Greeley Mall. The exterior walk up style buildings provided the buyer with a cost effective and easy to maintain asset, stabilized at market rate rents.
The Phil Dankner Team of the Greystone Unique Apartment Group worked with both parties to a successful close.
Click Here to View the Sale Brochure:
https://www.uniqueprop.com/wp-content/uploads/2019/09/Brochure_-_Arbor_Ridge_Apartments.pdf
Investment Highlights
Closed: 9.10.2019
$3,000,000
24 Units
$125,000 / Unit
First Sale Ever
For more information, please contact:
Phil Dankner (303) 645-4796 | pdankner@uniqueprop.com
See more about Arbor Ridge Apartments at: https://www.apartments.com/3026-17th-ave-greeley-co/szgj0k6/
Location
About Unique Properties, Inc. / TCN Worldwide
Unique Properties, Inc. / TCN Worldwide is Colorado's most experienced, privately held, full-service commercial real estate brokerage firm, providing solutions for a full range of property types including office, industrial, retail, land and multifamily. Unique Properties, Inc. provides clients with local know-how on a global scale through our association with TCN Worldwide, an affiliation of independent real estate firms in more than 200 markets with 62 offices in eight countries, throughout in North and South America, Europe, and Asia. The combination of Unique Properties' global resources, creative solutions, experience, and strong leadership has resulted in production volume locally of over 300 commercial real estate transaction in 2016. We have been operating successfully for over 40 years and are acknowledged as an industry leader, providing services at the caliber of a global leader while maintaining the personal attention of a focused, privately owned firm committed to trust and excellence. For more information about the services provided by Unique Properties, Inc. / TCN Worldwide, please visit uniqueprop.com.
«
Previous
Next
»