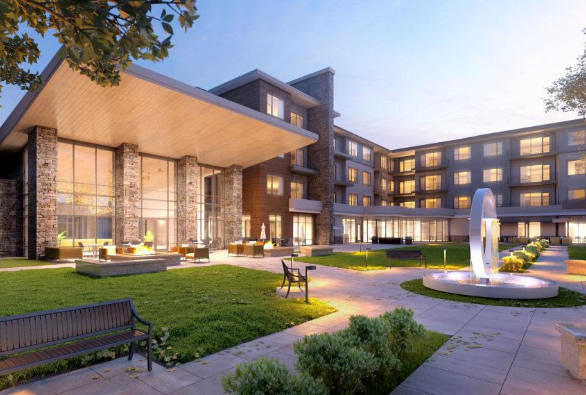 May 14, 2018
Construction: In progress
An innovative new retirement community in Denver, wrapped in the natural warmth and wonder of the Lakewood foothills. Anchored in a spirit of inspired independent living. Brimming with the possibilities of an environment built to deliver opportunity at every turn. And should your situation change, you can live each day confident, knowing you have the added peace of mind with advanced assisted living and personalized memory support.
$150 Million Senior Living Community Coming Together Near Denver
Cappella Living Solutions will manage a $150 million senior living community under construction in Lakewood, Colorado.
The community, The Ridge Pinehurst, will have 318 independent living, assisted living and memory care apartment homes. The 15-acre site will have views of the Rocky Mountains, a nearby golf course and a lake. The community's owner and developer is Ridge Senior Living.
Lantz-Boggio handled the project's architectural design, Shaw Construction oversaw the build, and interior design is being handled by StudioSIX5.. Additionally, GlynnDevins is providing marketing support for the forthcoming community. If all goes according to plan, Ridge Pinehurst will welcome residents in the fall of 2019.
Original content provided from here.
Read more about The Ridge Pinehurst here.
«
Previous
Next
»