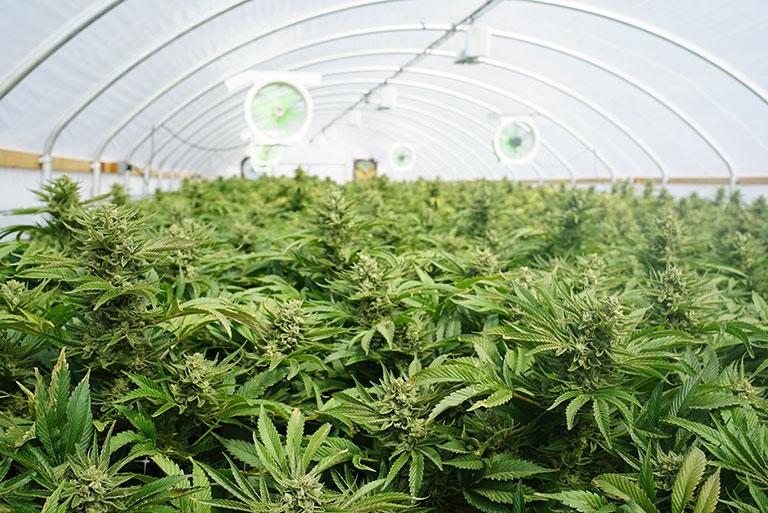 November 7, 2019
Contributed by Jake Cook of Unique Properties' Myers Cook Team
[lwptoc title="Sections in this Article" smoothScrollOffset="69″]
One question we often hear today is "What's going on with marijuana properties?".  Denver's industrial real estate market has risen significantly over the past decade, and the demand for marijuana grow facilities ("MJ grows") was a big driver in that rise, helping to push up rents and lower vacancy rates… but there have been plenty of changes along the way.
A little history
In 2000 Colorado enacted laws allowing the limited growth and sale of medical MJ. In 2008 those laws were liberalized, spawning the first wave of MJ-driven real estate market expansion. Then in 2012 recreational MJ was approved, and on January 1, 2014 Colorado was open for business. A flood of new operators hit the market, looking for space to grow and distribute their product. Everything in that environment was new: new for regulators, new for (mostly start-up) operators & investors, and certainly new for property owners; there was a lot of opportunity, but lots of uncertainty as well. For legal and other reasons many property owners would not consider leasing their buildings for MJ use, which helped to constrict supply and added to a "land rush" mentality. As a result lease rates were bid up quickly. Most activity went to Class C and D properties, usually in increments of 2000 to 10,000 SF (Note: There were few building sales initially, as conventional lenders could not fund the MJ business or its real estate, since it was [and still is] federally illegal. Seller-financing and private equity have partially filled that need, though user purchases are still not common.) Even for a lease the up-front capital requirements were significant, as additional power, plumbing, build-out, and HVAC capacity were often necessary (constructing a "building within a building"), and the cost of these improvments was almost always borne by the operator. As the industry began to mature many smaller operators were squeezed by thinning margins and declining wholesale prices; well-capitalized and highly sophisticated growers were able to yield more product per plant, and provide better quality at a lower cost. On top of that regulations continued to change, leading to confusion and high legal and consulting costs for operators; large producers are better able to devote the resources necessary for navigating the waters of government affairs and compliance– smaller producers, not so much. Today the recreational MJ industry has matured (if that can be said of an industry just six years old, and not completely legal!). In any event, the MJ real estate market is certainly more stable these days.
What type of buildings are now prime for MJ grow use?
There are many factors affecting where a grow may be set up, with the rules differing from city to city. Not only must the zoning allow MJ, but there are minimum required setbacks from homes, schools, daycares, rehabilitation centers, and other sensitive uses, as well as other limiting factors. Class C and D warehouses with heavy power are still favored by operators, with the same building improvement equation still in effect. Denver, which early on was the most MJ-friendly of the local municipalities, has tightened its rules and ceased granting any new licenses (only a grower with an existing license to transfer may open in a new location in Denver). Aurora and Commerce City are the now the prime locations for new grows in the metro area. Because of the high start-up costs growers prefer long-term leases to ensure that they can recover their investment. The net effect of all of this is that the supply of grow-appropriate buildings is still constricted.
What rent levels are we seeing for MJ properties?
Initially rents were 3x to 4x market, which in 2014 meant $15 to $20/sf nnn, or more. MJ landlords needed these premiums to cover the legal and market risks associated with an MJ tenant; there were also lender prohibitions, and other physical issues related to growing. Today the risks have lessened, and the gap in market lease rates for conventional vs. MJ uses has narrowed, with conventional rates now ranging from $7 to $10nnn, and new MJ lease rates in the $12 to $14nnn range.
What happens when a former grow returns to conventional use?
Due to the consolidation in the industry, and high operating and improvement costs, we have seen operators move away from smaller, multiple grows in favor of larger facilities under one roof. This has brought many former grow buildings back to the market, but not without their share of issues.  There can be significant costs associated with returning a former grow to conventional industrial use: individual grow rooms usually must be removed, with the power, plumbing, and HVAC runs capped-off or relocated to exterior walls, and new paint and floor covering required in remaining office areas. A building owner should budget $5-10/sf for this work, along with the associated down time and re-leasing costs.
Where does the MJ investment market stand now?
There is pent-up capital to deploy in MJ properties, and pricing and returns are starting to approach more conventional investment market metrics (though there is still a way to go). MJ sellers are pushing for 10% to 12% cap rates, with longer term-leases in place and annual rent escalations– as long as this yields a deal in line with bricks & mortar value, there are willing buyers. But, given the risks and lending issues that continue to exist, many buyers still seek returns above 15%. This disconnect makes for a difficult gap to bridge.
Where are things going from here?
CBD and hemp, which don't have the psychoactive properties of THC but do have medicinal properties, are now legal federally, but local governments do not treat them all consistently, nor as completely legal (read: still much to shake out here). In addition, there has been a lot of media attention paid to the harmful effects of vaping THC products– this is something we will be following closely.  Finally, with an election year approaching, it will be interesting to see if there is a move soon to federally legalize MJ.  If that happens we will see big pharma and tobacco jump in with billions of dollars in capital, which will change our market landscape yet again.
If you are considering purchasing or leasing an MJ-related property, please call us at 303.512.1187 or email tmyers@uniqueprop.com so we can use our experience to point out potential problems before they arise. We have extensive experience in representing landlords, tenants and investors of marijuana real estate. Also, thank you to our partners at Avalon Realty Advisors for their input on this piece.
Meet the Team
With almost 50 years of combined experience, the Myers/Cook team delivers hard work, smarts, great service, and results. Focusing primarily on industrial sales and leasing in the front range, they have successfully completed projects for every type of client, from Fortune 500 companies and institutional owners & investors, to local enterprises and start-ups. Tom has lived in Denver most of his life. A former lawyer and real estate developer, he understands the business, knows the players, and knows how to make a deal. Jake is young, hard-working, and sharp, and a great networker. Check out some of our past work and client list, below, and let us know how we can help you.
«
Previous
Next
»