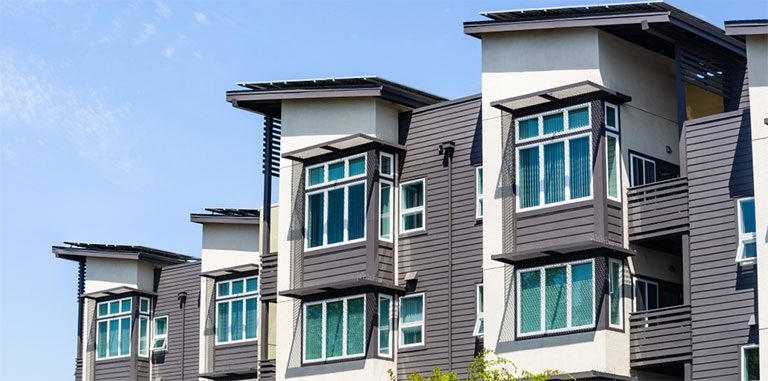 January 13, 2022
Multifamily units are one of the most popular housing options on the market. With fewer millennials buying homes, the need for rental property has become apparent. Indeed, 2020 saw a 50% increase in the construction of multifamily units compared to the previous year. These facts make multifamily real estate an appealing investment, and it's true that there are many promising opportunities to seize hold of in this market. If you're curious about multifamily real estate investment, there are a few things you should know about the real estate market, including the pros and cons of investing in a multifamily property.
What Is a Multifamily Property?
Before deciding whether or not to invest in multifamily real estate, you should understand what the term entails. It's often used interchangeably with other terms such as "multi-dwelling unit" or its abbreviation "MDU." These phrases refer to buildings containing multiple separate residential units within a single complex. Some of the most common types of multifamily properties are apartment buildings, condominiums, or duplex and triplex units.
Residents of multifamily properties vary widely. As the name suggests, some units are indeed occupied by families — but increasingly often, single people and roommates are the typical demographic sharing these types of units. Living in a multifamily property is the norm in many major metropolitan areas, but it may be less common in suburban areas with residential markets that are dominated by single-family homes. Statistics indicate that new construction of multifamily properties may eclipse the construction of single-family homes, suggesting that the former may eventually surpass the latter in popularity.
Pros of Multi-Family Property Investment
Investing in a multifamily property could be one of the best moves you make. Many real estate investors have made their fortune through strategically investing in multifamily properties, and there's no reason why you can't do it, too. There are plenty of benefits to make multifamily properties appealing.
Multiple Income Streams
Perhaps the most important benefit of multifamily property investment is its ability to provide multiple income streams with only a single investment. Though the investment in question consists of just one property, the multiple units of a multifamily property mean that you can enjoy income from multiple tenants. This greatly minimizes the risk of investment because your returns are never dependent upon one single party. Instead, you generate income from multiple parties, making your revenue far more secure. For this reason, some investors favor multifamily properties with many units so that the property's revenue is distributed across many tenants.
Risk of Investment
Another notable pro of a multifamily property is the comparatively low risk of investment. Though no investment can possibly be risk-free, people will always need a place to live, and this makes any residential property a safer option than many other types of investments. Even during economic downturns, people will inevitably seek housing — and in some cases, economic downturns benefit real estate investors, because these periods often precipitate a rise in rentals.
Potential Valuation
Inexperienced investors often make the mistaken assumption that real estate automatically appreciates in value. Of course, this may sometimes be true, but appreciation requires maintenance and continuous investment in order to be fully realized. That said, most real estate does tend to gain equity, which makes a residential investment a great option for those who have long-term goals in mind. A well-kept property that endures several real estate cycles can enjoy a steep appreciation — especially if it's in a hot market with much growth.
Cons of Multi-Family Property Investment
Though there are many benefits of investing in multifamily properties, there are some downsides that should be addressed, too. Successful multifamily real estate investing is hardly an easy task, and the following cons may threaten to thwart potential investors.
Cost to Invest
Overwhelmingly, the biggest obstacle to investing in multifamily real estate is the price tag that most properties carry. Constructing a new property can cost millions, and buying an existing structure may be just as pricey. These prices are likely to be particularly high in markets that are notably lucrative, too — so what's a new investor to do? In most cases, a lender will want a down payment of at least 20% for a multifamily property mortgage, so investors who are able to raise sufficient capital may be able to break into the market. Still, price is often a serious problem for those seeking an entry-level investment.
Competition
Because of the high price tag associated with multifamily properties, they often attract experienced investors — and because of this, there's often hot competition. A multifamily property in an attractive area could offer investors enormous profits, so naturally, there are likely to be multiple investors interested in any given property. In some cases, this will result in a bidding war, which will only further drive up the price of the property in question. Needless to say, the stiff competition adds yet another obstacle for anybody who's interested in entering the market.
Demands of Management
Finally, multifamily real estate investing can be off-putting simply because of the intensity of the commitment. Though real estate is often labeled a passive income stream, many multifamily real estate investors will tell you that there's nothing passive about it. On the contrary, owning such a property can demand constant attention and upkeep — even if you choose to outsource management to somebody else. Additionally, overseeing a residential property may entail more liability than other types of investments, which can be a cause for concern.
Take Control of Your Real Estate Investment Portfolio
Multifamily real estate is a popular asset, and it offers both pros and cons to potential investors. Experienced and entry-level investors alike can benefit from the services of a broker to help find the best properties, negotiate the best prices, and streamline the purchase process. That's exactly what Unique Properties, Inc. offers to its clients throughout the greater Denver, CO area. With over 40 years of experience in the Colorado real estate market, we're experts in every aspect of investing. Trust us to help you break into the Denver market. For more information, call us at (303) 321-5888 or reach out to us online.
«
Previous
Next
»