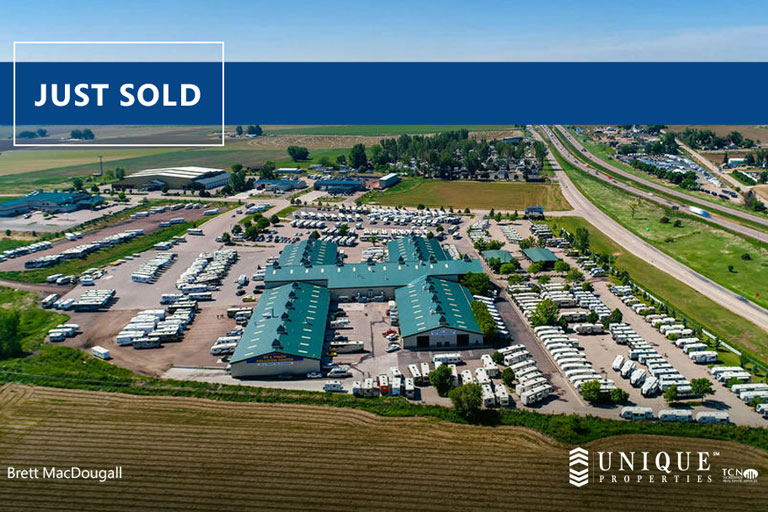 September 10, 2020
Johnstown, CO  (August 31, 2020) —Unique Properties, Inc. / TCN Worldwide, Colorado's most experienced, privately held, full-service commercial real estate brokerage firm, is proud to announce the sale of 4777 Marketplace Drive in Johnstown (Loveland), CO for $11,325,000 or $87.50/SF
Brett MacDougall, Senior Broker Associate at Unique Properties, Inc, exclusively handled the transaction for the Seller, 6701 Marketplace Dr LLC, and the Buyer, Trailer Source Inc.
4777 Marketplace Drive, Johnstown, CO
Built in 2001, 4777 Marketplace Drive is an institutional-grade industrial/retail asset offering a state-of-the-art collision & body shop, 38 drive-in doors, 2 paint booths, a full-service sales center, and is the Nation's largest indoor RV showroom. Positioned on 27 acres off the historic "Johnsons Corner" exit of Interstate 25, the property offers a highly recognizable and well-located asset. The 129,300 SF dealership is fully occupied by Lazydays RV on a NNN lease. The property is unique as it is the only one of its kind in the United States!
"The Buyer has extensive experience with this product type, currently owning & operating five other RV dealerships in Colorado.  They were attracted to the strength of the tenant, location of the property and the overall investment opportunity" said Brett MacDougall. "We had significant interest on a national level for this opportunity but chose a local buyer due to their expertise in this space and motivation to close. It is an interesting dynamic where one RV dealership owns the land on which a competing dealership conducts its business."
"The RV sales market has been in a robust place for the last few years, and now with COVID-19 triggering a change in the way people travel, the RV market is the stronger than it's ever been. The industry is seeing rapid spikes in sales and manufacturers are struggling to keep up with demand. Despite all the economic uncertainty, the rising demand and sales for RVs helped us take this transaction to the finish line."
Brett MacDougall previously sold two other RV dealerships leased to Lazydays in Longmont & Aurora, completing the full portfolio sale on behalf of the Seller, totaling $18,700,000. The Seller had previously operated his own business, RV America, out of all three locations prior to selling the business and leasing back the real estate in 2015.
To schedule an interview, please contact: Russell Ault at rault@uniqueprop.com, or 303.321.5888.
About Unique Properties, Inc. / TCN Worldwide
Unique Properties, Inc. / TCN Worldwide is Colorado's most experienced, privately held, full-service commercial real estate brokerage firm, providing solutions for a full range of property types including office, industrial, retail, land, and multifamily. Unique Properties, Inc. provides clients with local know-how on a global scale through our association with TCN Worldwide, an affiliation of independent real estate firms in more than 200 markets with 62 offices in eight countries, throughout in North and South America, Europe, and Asia. The combination of Unique Properties' global resources, creative solutions, experience, and strong leadership has resulted in production volume locally of over 300 commercial real estate transactions in 2016. We have been operating successfully for over 40 years and are acknowledged as an industry leader, providing services at the caliber of a global leader while maintaining the personal attention of a focused, privately owned firm committed to trust and excellence. For more information about the services provided by Unique Properties, Inc. / TCN Worldwide, please visit uniqueprop.com.
«
Previous
Next
»